Flexible Screw Conveyor Specialists
Flexible Screw Conveyors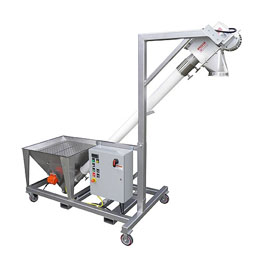 We manufacture a complete line of flexible screw conveyors ranging from 2-1/2 inches to 8 inches in diameter, lengths up to 40 feet, capacities to 29 cubic feet per minute all designed to handle a wide range of bulk materials including powders, flakes, crystals, granules and irregular shape particles.
Call or email us today and we will help you select the right components for your application, whether it's a complete conveyor or just individual components.
Replacement Parts
In addition to a complete line of flexible screw conveyors we provide a wide range of spare parts for our equipment as well as competitive units. These high quality, low cost replacement parts include augers, outer casings, inner center cores, quick release compression couplings, bin vibrators and point level sensors.
If you need assistance in selecting the proper components for your application just contact us. We have many years of practical field experience.